Houston Police Chief Hits Out At Trump, Asks US Prez To Keep Mouth Shut If Nothing Constructive To Speak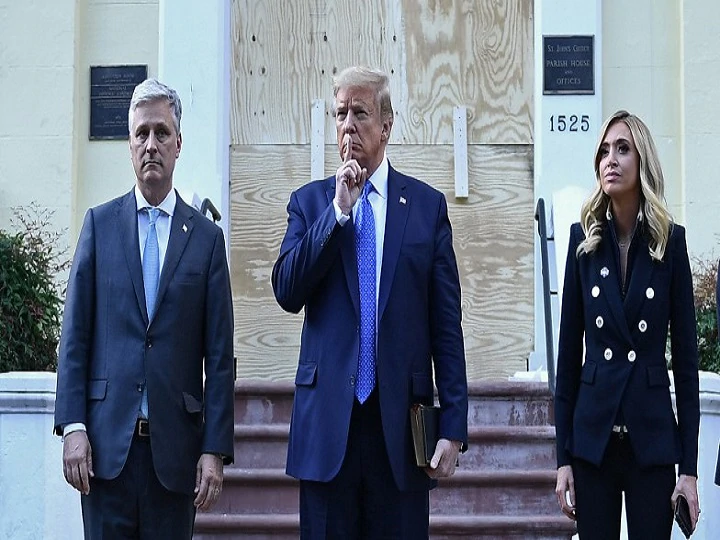 The police chief stressed that there is "no excusing" the killing of George Floyd and says he stands by with the Floyd family for justice.
By : ABP News Bureau | 02 Jun 2020 04: 32 PM (IST) Photo by Brendan Smialowski / AFP
Washington: After the outrage has snowballed into several US states over the alleged murder of the murder of George Floyd at the hands of a police officer in Minneapolis, Minnesota, the Houston Police Chief Art Acevedo has openly criticised the US President Donald Trump in a television interview asking the President to keep his mouth shut if he can't speak constructively.
In an interview with CNN's Christiane Amanpour, Acevedo mentioned speaking on behalf of all police chiefs in this country and said. "If the US President has nothing constructive to say, he should keep his mouth shut… because you are putting men and women at early 20s at risk. This is not how you work because it's real-life . It's not about dominating but winning hearts and minds. We do not want to confuse people kindness with weakness."
The President has been criticised for mishandling the riots following Floyd's death on May 25 which saw protestors taking to streets attacking and vandalising stores including police property.
However, the police stepped in to control the outrage which has seen several protestors and civilians caught in the protests with blood dripping down their faces.
Trump also attacked state governors for showing 'weakness' against the protestors. According to media reports, the President has asked them to 'dominate' the situation to restore order.
Acevedo stressed that there is "no excusing" the killing of George Floyd and says he stands by with the Floyd family for justice.
The police chief clearly said that if you don't have anything to say, don't say it. "We need leadership now and it's time to be presidential. This is not The Apprentice," he said, referring to the popular reality show that starred President Trump. He insisted on protesting in peace and work towards the cause but voting rather than hitting with bricks.
In the interview, the Police Chief also asked more people to vote wisely during the November elections which will witness a tough fight between President Trump and Joe Biden of the Democrat Party. "A number of the protesters hurling bricks can do so because they never voted," he said.